US-66
What good is a Highway Page without US-66?
US-66 is the most famous highway in the US. This was a route from Chicago to Los Angeles via St. Louis, Tulsa, Amarillo and Flagstaff that inspired a song recorded by half the known population of North America, a TV show, movies, and countless books.
In IL, US-66 ran from Jackson and Michigan in Chicago west with US-34 to Ogden Avenue, then to Harlem Av. (then IL-42A, now IL-43). US-34 continued west, while US-66 headed south a mile or so to Joliet Road. US-66 went west from here to Joliet, then Bloomington-Normal, Springfield and then St. Louis.
In the St. Louis area the road had been relocated several times. It crossed the Mississippi River at the Chain of Rocks Bridge from 1937 until 1957 when it crossed into St. Louis' downtown on the Veterans Bridge. US-66 was eventually replaced in IL by I-55 and I-270.
When US-66 was originally built it went from Chicago to Welco (Now Bolingbrook) and then south to and thru Joliet, and eventually to Dwight, Pontiac, Bloomington, Springfield and beyond. It was rerouted several times around various towns, but the biggest rerouting occurred from Welco to Gardner.
The original route, thru Joliet (on the current IL-53) was changed to Alternate-US-66 after the newer route was built in 1940. It was changed to IL-53 as an extension of that route in 1966, and Alt-US-66 was decommissioned.
Reroutings included near Joliet, where 66 was once on what is now IL-53 into Joliet, and then was moved to what was then (and is again) IL-126 into Plainfield to IL-59 south to Wilmington, then to Gardner. The old route became Alternate-US-66, then IL-53.
Various bypasses were built at many towns along the way, and some towns have as many as 4 different alignments of US-66 in and around them.
Portions of Old US-66 in the St. Louis area are now parts of IL-157, IL-203, IL-111, and IL-3. Some of these old alignments became Alternate-US-66, Business-US-66, City-US-66, and Bypass-US-66.
This route was proposed to become US-60, and was marked as such on some maps that came out before the road was posted as US-66.
Parts of US-66 in IL were posted as "Chicago" or St. Louis" instead of N-S or E-W. This was due to its diagonal orientation in IL. With the even number, it would have officially been classified as an E-W road, although in IL it actually went more N-S distance wise.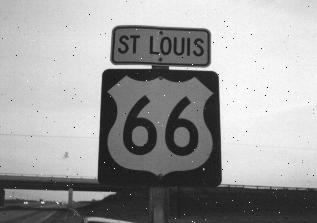 Business-US-66 is believed to have been used on old alignments of US-66 in the St. Louis area at various times. It was used in the Bloomington-Normal area, thru Springfield, and thru Lincoln as well. Each of these are now Business Loop I-55
City-US-66 was from Mitchell to East St. Louis, on what is now IL-203 and city streets to the old Municipal Toll Bridge into St. Louis MO. It then continued on what is now MO-30 and MO-366 SW from St. Louis to meet up with US-66 outside of town. This had been US-66 prior to 1938 when US-66 was rerouted on a bypass around St. Louis. City-US-66 was changed in part to IL-111 in 1964 and then became IL-203.
Bypass-US-66 was used from 1957 to 1964 for what had been US-66 after US-66 was relocated to a new freeway thru St. Louis. The road is now IL-157 from Hamel to Glen Carbon, and Chain of Rocks road. It used to go into MO over the Chain of Rocks Bridge.
There are several museums dedicated to US-66 (Clinton OK, Baxter KS, Vega TX), and even a US-66 Hall of Fame in McLean IL. Most of the old roadway has been reposted in some way by the various states as "Historic US-66"
During the early 1990's, it became very fashionable to retrace old US-66. Us road geeks had been driving it for years, but now it was being publicized in the popular press, and TV specials were being made weekly. Most states along the way of the old US-66 posted signs along the old pavement identifying it as "Historic US-66".
All US-66 states except TX use the same type sign, a rectangle containing an outline of the old shield shaped sign with state name in the shield, and the rest of the sign in brown on white stating "Historic" or "Historic Route".
Kansas uses different signs, and also paints "66" shields on the pavement for the few miles it ran there. OK has a good chunk of the route as OK-66, and there are still many original US-66 shields and markers along the way in OK.
In IL, not all portions of the ROW are marked. In places where more than one alignment exists, such as Dwight (4) or Pontiac (3) only one is chosen to be marked. It is usually a portion of the 4 lane version that immediately preceded the I-55 route. Parts of I-55 are also marked as Historic US-66 where it directly replaced US-66.
There are web sites that exist only to point people to US-66 web sites. Authentic US-66 markers collect thousands of dollars at antique stores, and the fake ones are grabbed up faster than you can blink.
Rich Moeur's Arizona US-66 signs
My biggest gripe about books about US-66 is that they rarely have decent pictures of real US-66 markers. What good is a highway without markers?

Authentic US-66 marker outside the Galena KS Museum.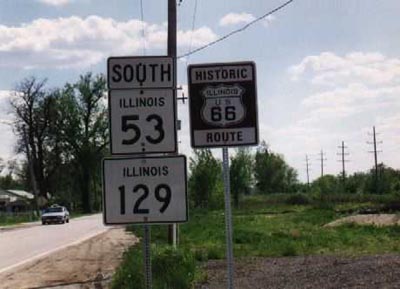 Illinois uses these signs to mark a portion of the US-66 route. This section is near Braidwood. IL-129 currently runs from I-55 north of Diamond to Braidwood. It had continued SW to Gardner on the north side of the parallel railroad tracks, but was rerouted onto what is now IL-53 south of Braidwood when a bridge (Next photo) was condemned. After a year or so multiplexed with IL-53 IL-129 was removed south of IL-113.
IL-129 was on the second US-66 thru the area, IL-53 was on the first. After the second route was built from about where Bolingbrook is now SW to Gardner the old route (south of the RR) was changed to Alternate US-66.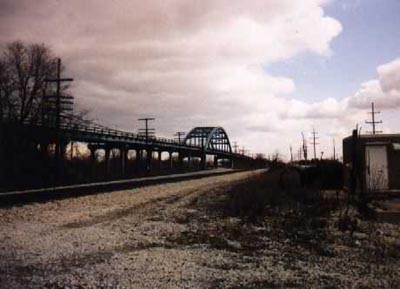 This magnificent bridge was built in 1941 over the then Alton Railroad (Later GM&O, ICG, CMNW, SPCSL, and now Union Pacific) Pequot branch. The highway to the right is currently IL-53, and had been Alternate US-66, and before that just plain old US-66. The bridge carried the newer route of US-66 that bypassed Joliet. After US-66 was removed from this route this became IL-129.
After the bridge deteriorated beyond repair it was closed (about 1995). IL-129 was removed from this route in the mid 1990's as the bridge was closed, and eventually pulled back to end at IL-113 in Braidwood. The bridge was offered to preservation groups if they could relocate it off the ROW but it was deemed to expensive to dismantle and move. The bridge was torn down in 2001. The graded embankments are still visible. To view this bridge on TerraServer click here.
Following US-66: