New (August 2010): Chicago-Kansas City Expressway Designation!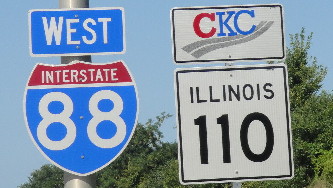 Read about the "CKC IL-110" markers on the I-88 EW Tollway!
Ever wonder why the road in your town is numbered what it is?
Whatever happened to Route 66 (or 42 or 116A...)
Why is I-94 posted as East-West When it runs North-South?
What's the difference between a US Route, an Interstate and a State Route?
How come the road out there has 2 different numbers on it?
If you ever asked questions like these, read on and get the answers.
---
Read all about your favorite route:
---
Did you find an error on my site? Want more information?
email me at:
n9jig@n9jig.com
Rexie's cute little Corner of the Web (Art's & Crafts etc.)
My wife has a life and a web site too. See What she does with it.
---
LMCT marker courtesy Christopher Bessert, used by permission
Updated: 10-29-2013