Road Geek Email List:
There is now a Road Geek E-Mail list. To subscribe to the Road Geek E-Mail List click here or see the below list of email addresses.
This list is for the discussion of State, US, and Interstate Highways in the US, their history, route numbering, and signage. This list will also discuss similar threads for Canadian roads as well. Geography and urban archeology are OK too. You must subscribe to the list to send e-mail to it.
For the subscribe, unsubscribe, normal, and digest commands, just send an empty email to the address. Note: the roadgeek-owner@yahoogroups.com address is just for people to contact the manager of the list (me!).
---
In February 2001 a bunch of roadgeeks got together in Joliet IL for the first annual Midwest Roadgeek Meeting. Here is a motley bunch:
From Left to right: Joe Koehler (Winnipeg MB), Rexie & Rich Carlson (IL), Mark O'Neil, (IL), Brandon Gorte (IL), Michael Koerner (WI) and I don't recall the names of the couple on the right.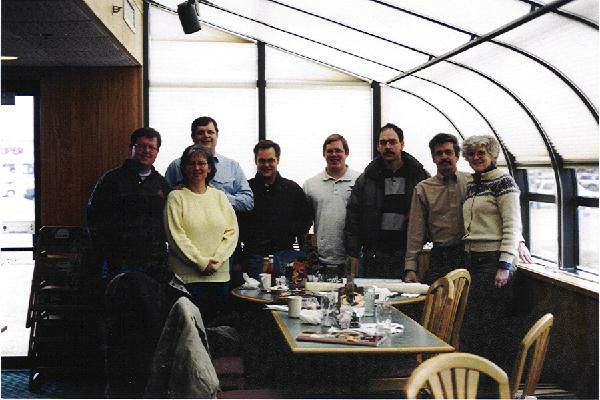 Click to subscribe to roadgeek
---

Misc.Transport.Road
MTR was once THE place for road geeks. This Usenet Newsgroup was very active, with upwards of 200 messages a day. Recently however it has degraded to the point of near irrevalence. Most threads are also discussed on various Yahoo Lists, such as Roadgeek, USHighways and others. While ocasional informative posts and threads still exist, they are rotinely outnumbered by rants, raves, spam and other nonsense. Usenet as a whole has pretty much become a non-factor.
| | | |
| --- | --- | --- |
| | | |
| | | |
| | | |
| | | |
| | Send updates to n9jig@n9jig.com | Updated 11-18-2007 |